Posted by Lee Benson on 29th Jul 2019
Australian Fencing Standards
When you buy an new home or an existing home, you will probably need to install a new fence sometime down the track. Knowing what height you can go to and what type of fencing is allowed in your area is a must before you even start to consider calling your local tradesman. There are a few thing to think about before installing your new colorbond fence. Outback Fencing knows It can be a bit tricky sometimes.
To make it easier for you we have put together a few things to consider before you start planning your new fence, we have also provided some Gov links so you can do a bit more research on your own.
Australian Standards, Why do we need them?
Why do we have Australian standards? It can seem like the Government has too many rules and regulations about everything these days, it feels like there is too much red tape. but the rules and regulations are there for a reason. imagine that your neighbor decided to put up a 3m high fence that wasn't engineered, not only does it look ugly and block out light but will probably fall over and cause some damage in the next storm. Outback Fencing knows Australian standards are here to help the neighborhood look and be safe.
Dividing fences between neighbors
The Dividing fence is the fence that is usually on the boundary to separate your land from your neighbors land. i don't know about you but im glad they exist, imagine your neighbor just walking in to grab something from your yard without asking. Dividing fences from Outback Fencing can make you feel safe and that's why you would probably want to replace it if it started falling down.
Fence Height regulations by state
Please remember at the time of this writing that the information was correct, please make sure you do your own research.
NSW

A good rule of thumb is that boundary fences in NSW should be no more than 1.8m high. There are sometimes other factors to consider and that might need council approval or building permit. please check with your local council before starting works. To find out more info please look up "NSW Planning Portal".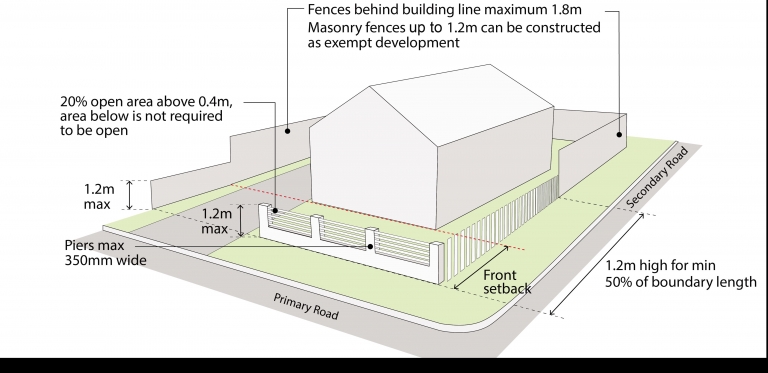 VIC

In Victoria you can go up to a height of 2m high. As always it is best to check with your neighbour and decide which height is best for both of you. And as always please check with your local council. Look up "The Victorian Fences Act 1968" for more information.
QLD
In Queensland, Look up the Neighborhood Disputes Resolution Act 2011. Getting a Building permit for a fence between you and the neighbor is usually not needed if the fence you install is:
Not a swimming pool fence.
Not a Retaining wall.
A fence less than 2m high.
As always Outback Fencing recommends that you check with you local council.
ACT

The Government here recommends that you look up the Common Boundaries Act 1981 before you start you building works. The ACT is a little more strict so its best to give them a call or to look up the fences act. things like all sharp edges must be capped etc. Please do you research if you live here.
SA
In south the Australia you can build a dividing fence up to 2.1m high without council approval. But this changes if you live on a corner block, also fences made out of brick need a permit if it is over 1m high. Please look up SA fences and the Law for more information on this.
WA
Western Australia is a funny one, the regulations on height depend on where you live in WA, again please talk to your neighbors first then call your local council to find what height and what type of fence you can build.
TAS

You will need a council approval if your fence exceeds 1.2m in height. If your fence is past 4.5m of a frontage, your fence can be higher. If you are not unsure, you can call the City of Hobart Development Appraisal Unit.
Fence Height Info
As you can see there are some things to think about before buying and installing your new fence, just like any kind of building work the first call should be your local council to see what you can build on your property. You can also ask your local Fence contractor who should know a thing or two about the fences in your area.
BUY COLORBOND FENCING FROM TRUSTED AUSTRALIAN SUPPLIER
Standards For Fencing Materials
Standards do exist for some fencing materials, Colorbond, steel and timber.
AS1397 and AS2728 Relate to the Color coating of Zinc Sheeting and how thick it should be.
AS1604 is for how timber should be treated, you would want to buy the right materials for your fence.
If you buy Colorbond fencing from us you can rest assured that it is Australian Made and meets all the requirements. We dont sell cheap imported colorbond look alike, Ours is the real deal.