Posted by Outback Fencing on 11th Oct 2022
Reasons to Use Aluminium Pool Fencing
Swimming pools are fantastic in the hot summer months. However, safety should always come first. Modern aluminium pool fencing is a must-have for both a safe and enjoyable summer pool experience.
What is Aluminium Pool Fencing?
Aluminium pool fencing is a powder-coated metal fence which goes around your swimming pool. It's both lightweight and very durable. Available in a variety of colours, aluminium pool fencing can withstand harsh conditions and extreme weather.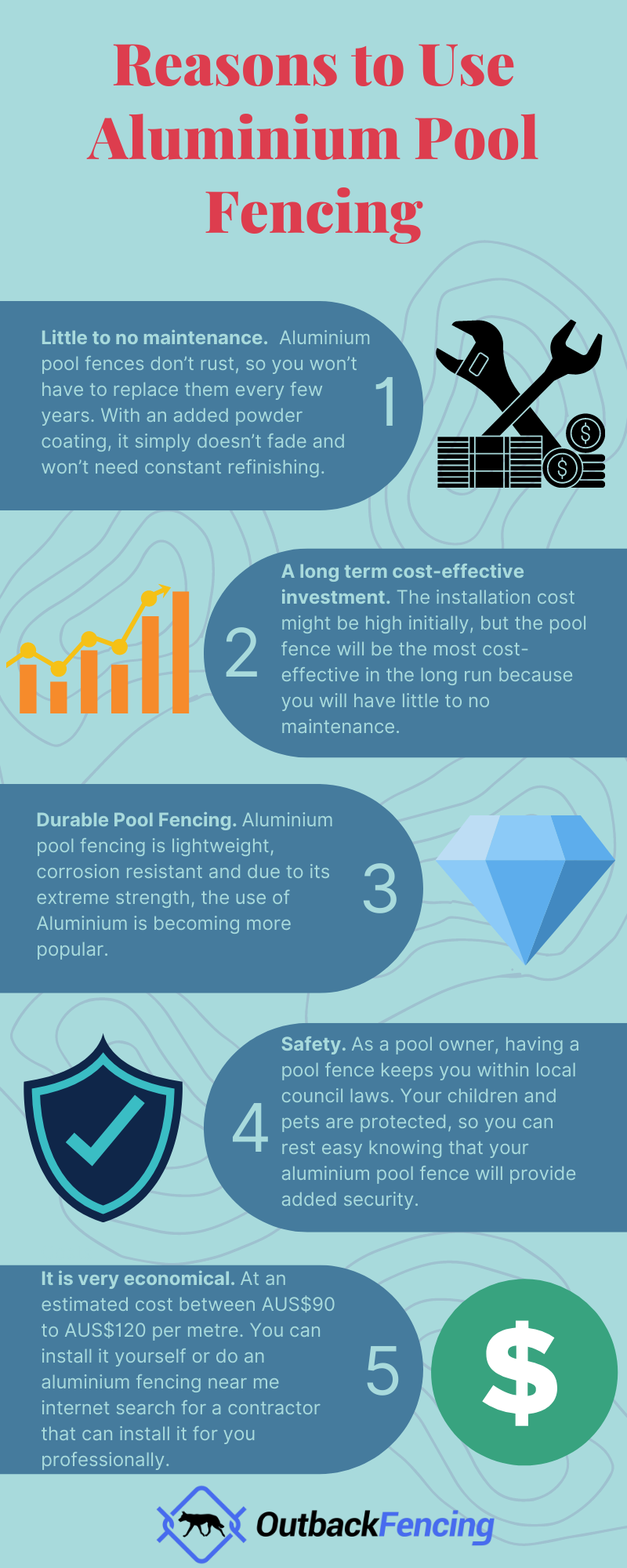 Advantages of Aluminium Pool Fencing
Having an in-ground swimming pool means you want to put up a pool fence to secure your entertainment area. Let's examine the most popular reasons for choosing an aluminium pool fence.
Little to no maintenance
Aluminium pool fences don't rust, so you won't have to replace them every few years. With an added powder coating, it simply doesn't fade and won't need constant refinishing.
A long term cost-effective investment
The installation cost might be high initially, but the pool fence will be the most cost-effective in the long run because you will have almost no maintenance. Modern aluminium pool fencing panels are more cost-effective for those on a tight budget.
Different colour options and styles
Modern pool fencing provides for a variety of styles and tastes. Adornments can also be added, like ornamental gates or fancy tops. With so many pool fencing options, you will add to the value of your home.
Durable Pool Fencing
Lightweight aluminium pool fencing is regularly used, but you can choose a more expensive higher-grade pool fencing if you feel it is necessary for an extra level of protection.
Safety
As a pool owner, having a pool fence keeps you within local council laws. Your children and pets are protected, so you can rest easy that your aluminium pool fence will provide added security.
Costs
Aluminium pool fencing is the most popular market today, as the positives far outweigh the negatives. It is very economical at an estimated cost between AUS$90 to AUS$120 per metre. You can install it yourself or do an aluminium fencing near me internet search for a contractor that can install it for you professionally.
Disadvantages of Aluminium Pool Fencing
As always, there are two sides to every coin, and aluminium pool fencing has a couple of disadvantages. Though they are few, they do need to be discussed.
Regular cleaning
Pool fences can collect dust, dirt and cobwebs in between posts.
Rust and corrosion
Although inland pool fencing would likely not rust, those at the coast will attest that the salty sea air will corode anything if you give it a chance. The powder coat will fade over time. Aluminium pool fencing will not rust like steel, But it can still oxidize.
Poor visibility
Make sure you install a pool fence that is easy to see through, from near and far, but also safe enough not to allow kids to climb through.
Privacy and Security
Aluminium pool fencing is not the most secure, as lightweight aluminium is not the strongest metal. Installation takes longer, as posts need to be secured in concrete that takes time to set.